You are ?
An industrial firm, a solution intégrator, an ingeneering consulting agency ?
You want to optimize your business processes throuh digital technologies?
You want to secure an industrial site to guarantee your collegues health ?
You are implied in a sustainability action ?
You need to advise a customer in its digital transformation ?
EyeSnap likely already successfully handled a similar problematics :
Industrial Firm
Simplification of field operations
Seemless customer  service
Security gain for the inspections on complexe industrial sites
Integrator & consulting firm
Expertise provider in the  digitalisation of field operations
Co-conception of solutions
Integration of technological bricks
Our expertise
Field operations digitalisation
To answer today's main challenges of  the industries:
Increase productivity

Secure workforce environment

Guarantee a quality of service (SLA)

Reach sustainable business objectives
EyeSnap provides tailored services and  solutions based on AI and Image recognition. Our expertise is built on top of 3 pilars:
Link the strategic vision of the company's digital transformation and its opérationnal field deployment
Setup a «Bottom-Up » approach: we start from the operation needs with our clients to find adapted solutions
Lighten the low added value tasks with automated and easy to use solutions 
EyeSnap solutions are already used by several business fonctions for different markets.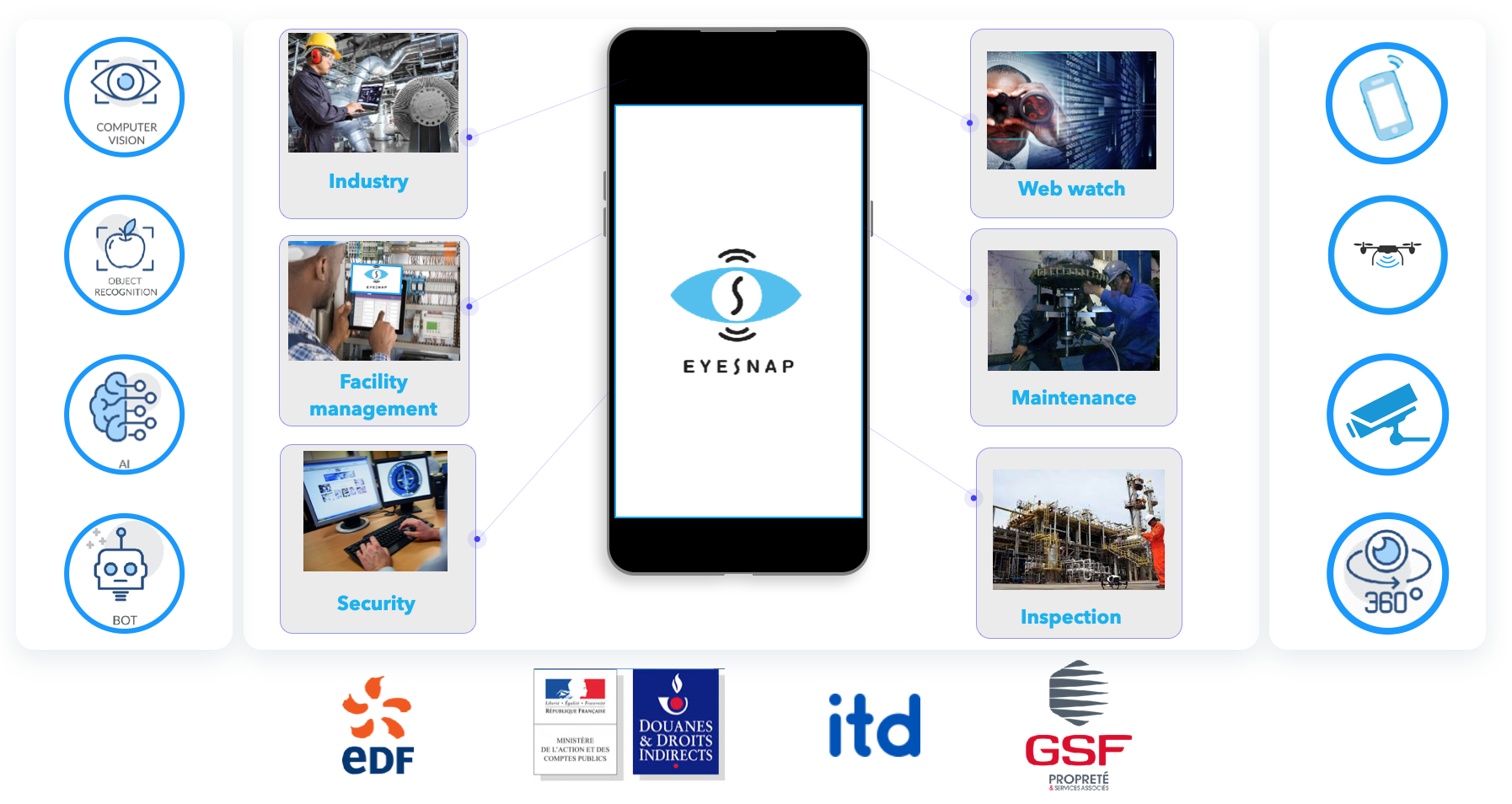 Use Cases
Industry, Forensic
Micro-services
EyeSnap devlops "on the shelf" micro-services, based on image recognition, ready to use by a third party application
Automated document processing
Financial documents – Telecom sites …
Security assets identification
Extinguisher – Signaletics …
Packaged Solutions
EyeSnap technology enables specific equipment recognition in videos captured  with a robotic plateform
Inspection Robot for complex sites
IOT Solution with security alerts
Complex equipement maintenance
Tailored projects
EyeSnap helps you in your innovation projects requesting a visual search  technology. We guarantee the project  confidentiality, data governance and a tailored service adapted to your needs
Specific objects identification
Tailored technological development
Web watch & asset protection
Asset protection – Brand Intelligence
Technologies
Artificial Intelligence, Computer Vision, OCR



Technological micro-services (SaaS)

AI - OCR

Secure cloud




Technological micro-services (IoT)

Mobile SDK

Edge computing




Packaged Products (SaaS/RaaS)

Robot

360° Digital Twin




Bespoke Projects (SaaS/Edge)

AI - OCR

Visual Chatbot
Our approach
A 3 step methodology 
Understand the benefits of digitalisation for field professionals
Adopt Design Thinking
Identify a "Quick Win"
Evaluate the company digital maturity
Analyse a"Quick Win"
Estimate the gain provided by the digitalisation of a business process
EyeSnap technology setup
Service co-construction
Techonology adoption by the teams
Management team
We are passionate about Digital & Innovation
Partners
Technology, Business